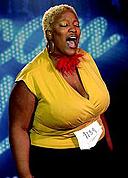 "Frenchie Davis" now on Broadway
Thursday, June 26, 2:51 p.m.
It's my birthday! Happy birthday to me! I love celebrating birthdays, both mine and others. And so I'm just checking in to let y'all know about the big day. OK, I know you're wondering. I'm 42. There, I said it!
Just read a piece from the Washington Post about former "American Idol" reject Frenchie Davis. She was kicked off the show because she appeared on a lingerie Web site in erotic photos. Now the girl is belting out tunes on Broadway in "Rent." You can't help but love a happy ending. Like the also-large Jennifer Holliday used to sing: She ain't leavin'!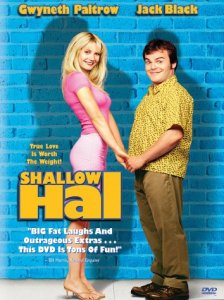 Tuesday, June 24, 8:49 a.m.
I'm about to head off to work, but just caught the end of last year's movie, "Shallow Hal." It's a film I didn't want to like, being no Ally McBeal myself, but I found myself being drawn in to its humor and sweetness. For those of you who don't know the story, a very shallow Hal is hypnotized by positivist Tony Robbins into seeing everyone's inner beauty -- even those who don't have that beauty on the outside. He meets and falls in love with an obese woman, but he only sees her thinner, inner beauty. When he wakes up, he can't handle the truth.
Of course, Hal falls in love with his large lady by the film's end. But it made me think about other things, such as race and the way people see each other. If people truly put appearance aside and fell in love with a person's compassion, kindness and humor, I think even more people would marry interracially. The numbers are rising, and by the end of this decade, I predict the numbers of black women-white men will finally catch up to their counterparts of black men-white women. Intermarriage in the Asian community is at an all-time high, and Hispanics (being the majority in many communties) are certainly seeing this trend.
I don't think this because I think minorities aren't beautiful. Just the opposite. But it's not whether they are beautiful or not, it's because some non-minorities still think we are simply too different for them to get involved with. We look different enough to put up a barrier around their comfort zone. I don't claim to understand it, but it's there.
This barrier can also extend to minorities who are uncomfortable being with whites. A black girlfriend told me last night that she doesn't like dating whites because of these differences: their looks, their hair, even their smell is different (I don't know what she means by this).
So, take all these differences and throw them in the lake. Find the true person inside, right? Isn't that what we are supposed to do? Be more like Shallow Hal?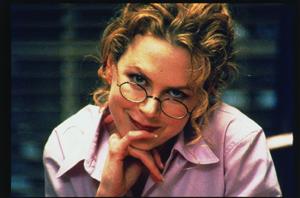 Monday, June 23, 1:18 p.m.
I'm on my lunch break, and just thought I'd check in. I hear Nicole Kidman is doing a new movie with a black leading man and I started thinking about past movies with interracial plotlines.
In "Emma's War" (to be directed by Tony Scott), Kidman will play a young British woman who moves to Sudan to become an aid worker. After moving to Sudan, she falls in love with a warlord in the midst of civil war. "Emma's War" is based on the real-life story of Deborah Scroggins' novel.
There have been a few films about black men with beautiful "delicate" white women. It seems the contrast here always stirs up at least a few comments. Take "Love Field (1992)" with Dennis Haybert and the ultra-bleached Michelle Pfeiffer; "Far from Heaven (2002)" with (again) Dennis Haysbert and tow-headed Julianne Moore and now the Kidman movie, we see dark-skinned men with more African than not features, paired with extremely fair women.
What does it mean? Does it mean anything? Well, it's not for me to decide, but it's an interesting thought. I should point out that Kidman starred (before she became really famous) in my FAVORITE interracial romance, "Flirting." So if I were to guess, I would say she doesn't have a problem with it.
Sunday, June 22, 2:56 p.m.
Just got back from the gym. It's a new experience for me, and one that I'm savoring. Depending on the day and the time, I can see a rainbow of people in there: black, white, Asian, Hispanic, male, female, young, old. Mixed, too, I think, but sometimes it's hard to tell. Everyone is getting along, just focusing on one thing: making their bodies better, and getting healthier.
There are two TV sets suspended on the wall in front of the row of treadmills. Last week, I was on the treadmill, and looked up to see a documentary on Michael Jackson. It was called, I believe, "Michael Jackson: Unmasked." Curious, I watched (besides, it took my mind off the monotony of the treadmill). The program showed MJ from youth to the present, his skin darker to paler, his features Negroid to the present mishmash of surgery.
This man is NOT a poster child from multiculturalism, despite how much I do love the video "Black and White." I think this man is so confused, and I wish someone could take him back to say, "Thriller," when he still looked normal. Oh well.
Interracial couples and families are NOT denying themselves or their races. But MJ is denying something even greater: his humanity.
Sunday, June 22, 2003 8:04 a.m.
Welcome to the blog. I've been wondering whether there is a need for an online magazine about interracial issues anymore, and then I do a Google News search for any related stories and turn up the usual suspects. Race still is an issue out there. As hard as it is to believe. Or maybe not so hard.
Another way I've determine to keep the site going is through your letters. I'll post one in the Best of the Guestbook (on the postings page). So continue to write in the guestbook. It's a real way to determine interest. Also, feel free to write me at
newpeopmag@yahoo.com
. I've moved my mail to yahoo because I get much less spam there. However, I probably will continue to get some because I'm publicizing this address!
I will keep up the mail accounts box on the
New People home page
because some of you have accounts through that. Thanks!